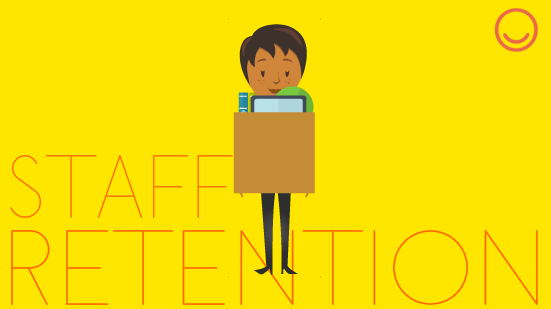 Staff Retention and why it matters
How much time do you give to employee retention?
'Employee retention is the ability of an employer to retain its employees.'
Although some staff turnover can be good for a business; as it means fresh ideas, approaches and energy, companies should have a strategy in place to retain the great people that give it a competitive edge; the ones it can't afford to lose.
Ignoring high levels of employee turnover can be bad for business; it may lower morale as well as dent your reputation and cost business. So, understanding the importance of staff retention is vital. The UK average employee turnover rate is approximately 15% a year, although this varies depending on industry. So if you are inline with the average and employee 150 people you can expect to lose around 22 each year. The highest levels of turnover tend to occur in retailing, catering, call centres, construction and media and will also vary based on geography with the highest rates found where unemployment is lowest. So it is not a case of one figure suits all.
So, why do people move on?
Poor salary and benefits.
A lack of training and development opportunities
Dissatisfaction with management
Not getting along with colleagues
Tough commute
Work/life balance
Atmosphere
The great thing is that, as an employer, you have the ability to influence most of the above and therefore to improve your staff retention if need be.
What are the consequences of high turnover?
A report carried out by Oxford Economics, http://www.oxfordeconomics.com/my-oxford/projects/... reveals that replacing members of staff is expensive: £30,614 per employee.
There are two main factors that make up this cost:
The Cost of Lost Output while a replacement employee gets up to speed
The Logistical Cost of recruiting and absorbing a new worker
What to address first? Find out why staff are leaving:
Needless to say, someone who is leaving may not be the most receptive but if they understand you are trying to move things in the right direction and improve things they may be inclined to help you. So you could undertake, for example:
Confidential surveys, questionnaires sent to former employees around six months after their departure.
Exit interviews.
However, while companies do conduct 'exit' interviews to try and ascertain the reasons behind a departure, because of the necessity to obtain a decent reference, people often tone down or completely fabricate their reasons for leaving. Making it clear that you want their input tio improve your business and that it will not impact your reference may negate this to some degree.
How can you improve staff retention?
By adopting a mix of the following methods, you should see an improved staff retention rate.
Ensure those being recruited have a realistic idea of what the job.
Offer a competitive pay and benefits package.
Improve career development opportunities.
Effective appraisals.
Strong diversity policies.
A good work/life balance.
A mechanism for staff to register dissatisfaction, whether it be appraisals, grievance proceeding and so on.
Leadership training for managers.
Survey your employees to give them a voice.
Making your employees feel valued and proud of the work that they do, will not only do wonders for your employer branding strategy, but will immediately improve your turnover rate.
Adopting a strategy for staff retention is not always easy, but it should benefit your organisation.
If you'd like to know more about how we can help you with staff retention please get in touch: