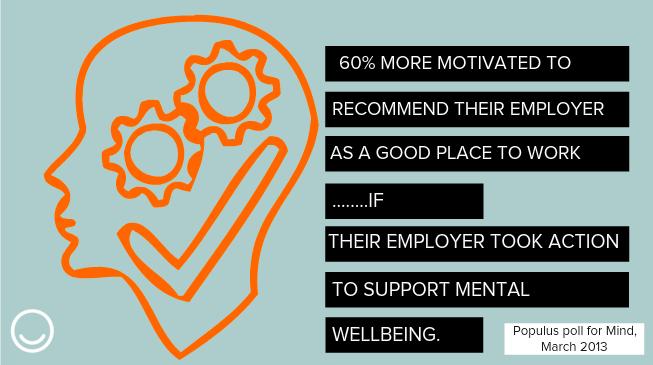 Good Mental Health at Work
Good Mental Health at Work
---
60 per cent of employees say they'd feel more motivated and more likely to recommend their organisation as a good place to work if their employer took action to support mental wellbeing.*
---
We all have two types of health, physical health and mental health. We are generally pretty well versed at monitoring our physical health and giving it the care and attention it needs. Our mental health also varies and moves along a spectrum from good to poor.
Full-time employees in the UK work for the third-longest amount of time on the EU, completing an average of 42.7 hours a week compared with the EU average of 37.4 hours, according to the Office for National Statistics.
Therefore it is not surprising that, considering how much time we spend at work, the workplace environment and culture affects our wellbeing...........and in turn our wellbeing affects the environment and culture of the workplace.
Smart employers know that organisations perform better when staff are healthy, motivated and focused. Furthermore, when employees feel their work is meaningful and they valued and supported, they tend to have higher wellbeing levels, be more committed to the organisation's goals and, importantly, they perform better too.
The correlation between staff wellbeing/motivation and business performance is commonly known as 'employee engagement'.
Here are our 4 top tips instating to promoted positive employee engagement in your workplace:
1. Raise awareness
For too long both in society as a whole and in the workplace, mental health has been the 'elephant in the room'. Too often, people a afraid to talk about their problems which can often lead to the situation spiralling. If an employer raises awareness of the merit of considering employees wellbeing this can create an environment where employees are more comfortable confronting the situation.
2. Lead by example
Send a clear message to your staff that wellbeing matters. Encourage your employees to opt healthier working habits and lifestyles. This can be in the form of flexible working, sticking to sensible hours and ensuring staff utilise their annual leave. Furthermore, you can provide benefits to staff to help them live a healthier life in general. This could start with offering a cycle to work scheme or access to gym membership and then incorporate private medical insurance to give your staff access to mental health support, physiotherapy/chiropratic cover helping to address musculoskeletal disorders (a well known cause of workplace absence).
3. Be available to your staff
Regular one-to-ones can help maintain a good working relationship and build trust which it time will hopefully facilitate open dialogue.
4. Create opportunity for development
Support your employees to be confident, and equip them to do their job to a high standard. You can do this by developing their capability and by coaching them or providing formal training opportunities.
Happy, motivated and capable staff and great for any business as it can lead to lower absenteeism and reduced staff turnover.
If you would like to know more about supporting your staff and creating a great workplace environment why not get in touch.
*Populus poll for Mind, March 2013.